"Nobody Is Above the Law" — Debrief
On Tuesday, December 17th, the Nobody Is Above the Law coalition anchored 600+ volunteer-led events in all 50 states and Washington, D.C. to demand that Congress impeach and remove Donald Trump.
Here's what we accomplished together:


600+ events, with events in all 50 states and Washington, D.C. 

More than 200,00 RSVPs

(aka almost a quarter of a million)!

350K people/day were visiting impeach.org, in bursts of 5,000 people at a time.
2.5 million views of the livestream: the largest livestream audience we've seen.
D.C. event was the morning of the vote and a bald eagle flew overhead!
Incredible levels of national press and local media hits (see an incomplete list below).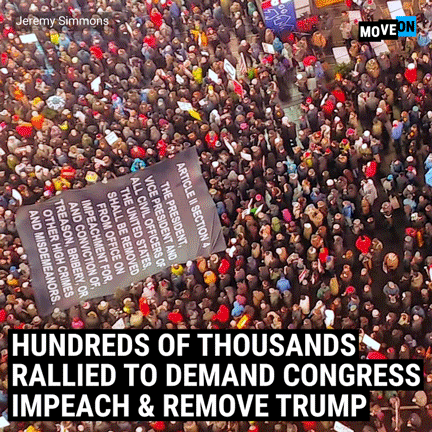 On Wednesday, December 18, the United States House of Representatives impeached Donald Trump.
This is a critical milestone in the fight to hold Trump accountable, protect our democracy, and demonstrate that nobody is above the law. This heroic achievement is a testament to the strength of grassroots action of a people-powered movement.
It was not an easy path to this critical moment. Though many have campaigned tirelessly to build support for the case to hold Trump accountable and declare that nobody is above the law ever since, many Democrats were too timid to discuss impeachment as recently as a few months ago—and Republicans continue to actively defend and enable Trump to this day. A few short months ago, many were crowing that "the impeachment dream is dead."1 
But thanks in part to efforts of this coalition, we moved the Democratic caucus, moved the national discourse, and turned impeachment from "dead" to done! 
The unlikely arc to making impeachment a reality shows us that we cannot afford to let conventional wisdom stop us from doing what we know is right. There is so much more that could be revealed about Trump's crimes and corruption. There are Republicans around the country who are fed up with his abuses of power.
And we know that we have people power on our side—that all of us together are able to accomplish so much to defend our democracy and stand up to the abuses of this administration.
Here's a little bit more about what we accomplished together. Our story, told by local press around the country, compiled by Stand Up America and Impeachment HQ:
NATIONAL
Alabama News: "We don't want a Monarch, he is not above the law." Non-Profit Group Holds Impeachment Rally
CBS Birmingham: 'Nobody Is Above the Law' rally in Birmingham demands Trump be impeached and removed from office
ALASKA
Alaska Public Media: Large turn out in Anchorage rally for Tump impeachment

ARKANSAS
Arkansas Times: Impeachment rallies draw crowds across the country, including in Little Rock

ARIZONA
CBS Phoenix: Hundreds rally at Phoenix intersection in support of impeaching President Trump

CALIFORNIA
San Francisco Chronicle: Hundreds Expected To Demand Impeachment Of President Trump
Palm Springs Desert Sun: Hundreds of impeachment supporters hold rally outside Rep. Raul Ruiz's office in Palm Desert
Press Herald: President Donald Trump impeachment supporters, foes rally in Inland Empire
Santa Cruz Sentinel: Hundreds gather at Santa Cruz clock tower to demand Trump impeachment
Vallejo Times-Herald: From San Jose to Oakland, impeachment protests gaining steam
CBS San Francisco : Bay Area Protesters Demand President Trump's Impeachment Ahead Of House Vote
FOX Sacramento: Sacramento protesters join nationwide rallies in support of impeachment
ABC Santa Barbara: Santa Barbara group joins nationwide impeachment rallies
KMJ: Trump Impeachment Protests Across the US, Including the Central Valley

COLORADO
The Denver Post: 1,500 call for Trump's impeachment at Colorado Capitol rally
The Pueblo Chieftain: Pueblo ralliers want Trump impeached
Colorado Springs Gazette: Hundreds gather in downtown Colorado Springs for Trump impeachment rally
CBS Denver: Hundreds Join Pro-Impeachment Rally In Denver

CONNECTICUT
Stamford Advocate: Hundreds attend Stamford rally to impeach Trump

FLORIDA
Pensacola News Journal: Protestors gather in downtown Pcola to call for the impeachment of President Trump
Bradenton Herald: 'Nobody is above the law.' Hundreds rally for Trump's impeachment in Bradenton
Florida Today: Impeachment supporters make their voice heard in Brevard, Rep. Posey will vote against it
NBC Fort Myers: Impeachment rallies erupt across Southwest Florida
ABC Pensacola: Impeachment supporters hold rally in downtown Pensacola

GEORGIA
ABC Atlanta: Hundreds line up in Buckhead to support impeachment of President Trump
FOX Atlanta: Protests in Atlanta ahead of impeachment vote for President Donald Trump
ABC Columbus: Protestors rally in Columbus in support of President Trump impeachment
CBS Savannah: Hundreds of rallies happening Tuesday ahead of impeachment vote
NBC Savannah: Protesters march outside Rep. Carter's office ahead of impeachment vote

IDAHO
Idaho Statesman: Boise joins 'Nobody is above the law' impeachment rallies
Idaho Press: Boise rallies highlight both sides of impeachment debate

IOWA
The Des Moines Register: Hundreds gather to rally for the impeachment of Donald Trump
Quad-City Times: 'You swore an oath': Rally in Davenport supports impeachment of Trump
Radio Iowa: Pro-impeachment rallies held in six Iowa cities on eve of House vote

ILLINOIS
Chicago Tribune: Hundreds turn out for Naperville rally calling to impeach President Donald Trump
NBC Chicago: Hundreds Gather for Rally Ahead of Trump Impeachment Vote

INDIANA
Evansville Courier & Press: America's angry national divide over Trump comes to Evansville
CW Indianapolis: Hundreds gather at Indiana Statehouse in advance of Trump impeachment vote

KANSAS
NPR Kansas City: Hundreds Of Impeachment Supporters Rally In Overland Park

KENTUCKY
CBS Lexington: Pro-Impeachment rally held in Lexington

MAINE
The Lewiston Sun-Journal: Impeachment backers gather in Lewiston-Auburn
NBC Bangor: Pro-impeachment rally gathers in Bangor

MARYLAND
The Baltimore Sun: 'He's a danger to democracy': Residents rally across Maryland for Trump's impeachment on eve of House vote

MASSACHUSETTS
The Boston Globe: In Boston and Cambridge, crowds call for Trump's impeachment
The Boston Herald: Hundreds Rally for Impeachment
MassLive: Western Massachusetts protesters call for ouster of President Donald Trump on eve of impeachment vote
Cape Cod Times: Cape protesters make their case before impeachment vote

MICHIGAN
Detroit Free Press: Crowds across Michigan gather to call for impeachment of President Donald Trump
Lansing State Journal: 'Nobody is Above the Law' anti-Trump rally at the Michigan State Capitol
MLive: Impeach Trump rally draws 200 in Grand Rapids
MLive: Kalamazoo rally calls on Congress to 'Impeach Trump' day before president visits Michigan
Fox West Michigan: Protesters in Kalamazoo say 'No one is above the law … Impeach Trump'
Michigan Public Radio: Protesters rally on eve of U.S. House vote to call for impeachment

MINNESOTA
CBS Minnesota: Pro-Impeachment Rally Held at Capitol Hill
Duluth News Tribune: Hundreds gather to support Trump's impeachment, urge fair Senate trial in St. Paul

MISSOURI
Southeast Missourian: Local protesters call for Trump impeachment

MONTANA
Helena Independent Record: Helena activists demand impeachment in conjunction with nationwide rallies
The Missoula: Missoula rally draws Trump protesters
CBS Billings: Dozens rally in favor of impeaching Trump in Billings
NBC Montana: Hundreds gather in Bozeman for impeachment rally

NEBRASKA
Lincoln Star Journal: Pro-impeachment rally draws crowd on the eve of U.S. House vote
ABC Omaha: Dozens rally against President Trump ahead of house vote on impeachment
NBC Omaha: Nebraska's gather to support impeachment
Nebraska TV: Group holds impeachment rally in front of Rep. Adrian Smith's office in Grand Island

NEW JERSEY
New Jersey Star Ledger: Hundreds gather across N.J. for Trump impeachment rallies
New Jersey Herald: Impeachment counter-rally on its own
Insider NJ: Protesters Preach to the Choir Outside Gottheimer's Office

NEW MEXICO
Albuquerque Journal: ABQ rally backs calls to 'dump Trump'
CBS Albuquerque: Protesters gather in Albuquerque ahead of impeachment vote

NEW YORK
Reuters: Demonstrators take to the streets in New York to rally for Trump impeachment
Albany Times-Union: Protesters demand Congress 'impeach and remove'
Newsday: In Patchogue and Huntington Station, protesters back Trump's impeachment
Utica Observer-Dispatch: Rally held in favor of impeachment
Long Island News: Pro-impeachment demonstrators gather at Rep. Lee Zeldin's office in Patchogue
Glens Falls Post Star: Protesters come out for and against impeachment of the president
CBS Albany: Protestors for and against impeachment rally in Glens Falls
NBC Albany: Capital Region rallies show support and opposition to impeachment
CNY Central: Hundreds show up to pro-impeachment rally in Syracuse, over 100,000 at rallies nationwide

NEVADA
Reno Gazette Journal: Hundreds of Trump foes descend on downtown Reno ahead of historic impeachment vote
ABC Las Vegas: Dozens rally in Las Vegas on eve of US House impeachment vote
NBC Las Vegas: Rally in downtown Las Vegas calls for Trump's impeachment, removal from office

NORTH CAROLINA
NBC Raleigh: 'Nobody is Above the Law' rally calls for Congress to impeach, remove Trump
Greensboro News & Record: Photos: Impeach and Remove Protest

NORTH DAKOTA
CBS North Dakota: Protesters will rally tonight to demand Trump's impeachment
NBC North Dakota: Impeachment rally in Minot

OHIO
Cincinnati Enquirer: 'It's important to stand up and be counted.' Trump rally hits Fountain Square
CBS Cleveland: Crowd gathers for pro-impeachment rally in Cleveland's Ohio City neighborhood
FOX Cleveland: Impeachment rallies scheduled across country including Cleveland Tuesday
Lima News: Anti-Trump rally held in Lima
NBC Columbus: Demonstrators hold pro-impeachment rally in Columbus
WYSO: Hundreds Rally In Downtown Dayton On Eve Of Impeachment Vote

OKLAHOMA
Tulsa World News: Pro-impeachment rally draws 150 to midtown Tulsa street corner

OREGON
Portland Press Herald: Hundreds at Portland rally call for impeachment of president
ABC Portland: 'Impeach & Remove' protest fills Portland's Waterfront Park ahead of House vote

PENNSYLVANIA
Pittsburgh Post-Gazette: Honk for impeachment: Horns blow at rallies across Western Pa.
Penn Live: Activists gather at Pa. Capitol to call on Congress to impeach Trump
Philadelphia Public Media: Hundreds in Philly, tens of thousands across the nation rally to impeach Trump
TribLive: Activists across Western Pa. to rally for Trump's ouster on eve of House impeachment vote
ABC Pittsburgh: Impeachment rallies held outside Conor Lamb's Mt. Lebanon office, Westmoreland County Courthouse
CBS Pittsburgh: Hundreds Attend Rally Supporting Impeachment
ABC Harrisburg: Protestors clamor for impeachment at Capitol

RHODE ISLAND
Providence Journal: Providence protesters rally for impeachment despite rain, ice

SOUTH CAROLINA
ABC Charleston: Impeachment rallies planned in Charleston and Beaufort County

SOUTH DAKOTA
CBS South Dakota: Protesters will rally tonight to demand Trump's impeachment

TENNESSEE
NBC: Knoxville: East Tennesseans Voice Their Opinions Ahead Of Wednesday's Expected Impeachment Vote
CBS Nashville: Impeachment rally held in downtown Nashville
Local Memphis: "Nobody Is Above The Law" Rallies Held In Memphis & Across The Nation In Support Of Impeaching President Trump

TEXAS
The Dallas Morning News: See and hear: Hundreds of North Texans call for the impeachment of President Donald Trump
Fort Worth Star-Telegram: Hundreds in Fort Worth, Arlington join nationwide rallies urging Trump's impeachment
Patch Texas: Trump Impeachment Rally Staged In Austin
ABC Dallas: North Texas protestors rally in support of impeachment

UTAH
The Salt Lake-Tribune: 'We do not want a king': Utahns rally in support of Trump's impeachment
Deseret News: Hundreds of Utahns rally for impeachment on eve of historic vote

VERMONT
NBC Burlington: Vermonters rally for impeachment

VIRGINIA
The Virginia Gazette: People rally in support of impeachment outside W-JCC Courthouse
ABC Virginia Beach: Impeachment rallies held in two Hampton Roads cities

WASHINGTON
ABC Seattle: Western Washington impeachment rallies on night before House vote

WEST VIRGINIA
Huntington Herald Dispatch: Huntingtonians show support for impeachment
ABC Huntington: Huntington group joining nationwide impeachment rally

WISCONSIN
Milwaukee Journal Sentinel: Demonstrators push for Trump's impeachment in Milwaukee outside Ron Johnson's office on eve of House vote
NBC Madison: Protesters at state Capitol ahead of impeachment vote